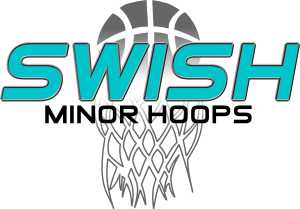 Basketball is the fastest growing sport in Canada and we make it our highest priority to provide the ultimate experience for each player to embrace this potential life changing sport. We welcome beginner and advanced players.
Our qualified coaches are motivated and passionate about teaching the basic fundamentals of the game and focus on helping the player to develop better shooting, dribbling and passing skills to improve their individual ability. All of our Swish opportunities up until the age of 10 are mixed and is not gendered specific.
Workshops, camps and private training will be available when restrictions lift and planning can begin. See Facebook and Instagram for current information.
SWISH HOOPS SPRING REGISTRATION (TBA)
Boys and Girls
NOW FULL -Kinder Hoops  Ages 4-5  OCTOBER 2022 SESSION IS NOW FULL! Contact us to be placed on a waiting list.  We hope to add another session, if we get enough players.
Mondays 5:00-6:00 pm @Suzanna Moodie Public School. This is an 8 week introduction program to the court, skills required and the start of play. * One parent/adult is welcome to train with your child.  We offer this three times throughout the year...
NOW FULL- October/November (2022) - February/March (2023) -  May/June (2023) Waiting list for October. Registration for February is not available yet.  
Cost/child: $130.00 no tax (incl. basketball and t-shirt) Minimal spaces available.
NOW FULL Tyke Ages 6-7  Mondays  6:00-7:00 pm @ Suzanna Moodie Public School.  This is a 10 weeks introduction program to the court, skills required and the start of play.  We welcome volunteers. We offer this twice throughout the year... October/December (2022) and  January/April (2023) Contact us to be placed on the waiting list info@nolimitsyouth.ca
Cost/child: $150.00 no tax (incl. a basketball and t-shirt)
Atom Ages 8-9  Thursdays 5:00-6:00 pm @Suzanna Moodie Public School. End of October 2022 to March 2023. 16 weeks of skill development and scrimmages. REGISTRATION IS NOW AVAILABLE
Cost $195.00 no tax (incl. basketball and t-shirt)
Junior Miss Hoops Ages 8-12 (all girls) Thursdays 6:00-7:00 pm @ Suzanna Moodie Public School. End of October 2022 to March 2023. 16 weeks of skill development and scrimmages. REGISTRATION IS NOW AVAILABLE
Cost: $195.00 no tax (incl. basketball and t-shirt)
Pee Wee Ages 10-12 Thursdays 7:00-8:00 pm @Suzzan Moodie Public School. End of October 2022 to March 2023. 16 weeks of skill development and scrimmages. REGISTRATION IS NOW AVAILABLE
Cost/child: $195.00 no tax (incl. basketball and t-shirt)